UNDERSOWING AND INTERCROPPING
TO SUPPORT SOIL FERTILITY
"...learn how to use intercrops correctly might be one of the best investments."
M. Archambeaud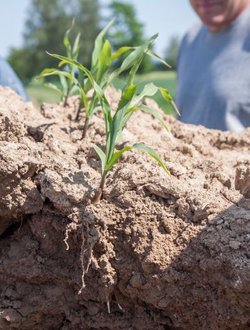 Enough organic matter and healthy soil are the main conditions for maintaining soil fertility. The reduced function of the ecosystem cannot be sustainably on a long-term basis compensated by higher doses of inputs such as fertilizers or plant protection products.  It is necessary to look for other solutions. The use of appropriately selected methods of undersowing and intercropping in purposefully aimed crop rotations positively affect soil fertility, production and stability of the yield.
Soils with a sufficient supply of organic matter are more resistant to climate changes. They provide the natural nutrient cycling and support the biological activity.  Maintaining a certain level of organic matter in the soil is also a precondition for meeting the requirements of the good agricultural practice.
Benefits
INCREASE OF SOIL FERTILITY
Symbiotic nitrogen fixation 
Better use of applied fertilizers, accumulation of nutrients in the organic matter and making them available for the crop
Formation of the high-quality organic matter, improvement of the balance of humus and organic carbon content in the soil
Stimulation of the biological soil activity 
ECONOMIC BENEFITS
Easier processing of structured soils reduces fuel costs
Reduction of costs of mineral fertilizers 
Support of the yield and quality of the main crop 
Possibility to use the crop for feeding purpose
IMPROVEMENT OF SOIL STRUCTURE
Reducing soil compaction and erosion control 
Formation of the soil structure due to the action of root systems and increasing the organic matter content
Better use of rainfalls and restriction of unproductive evaporation
Perennial covering and protection of the soil surface
REGULATION OF PEST AND WEED INFESTATION
Soil covering reduces weeds 
Phytosanitary effect
Disruption of development cycles of pests, antinematoid protection
Disruption of cereal sequences, including legume crops
Reduction of occurrence of diseases transmissible in the soil